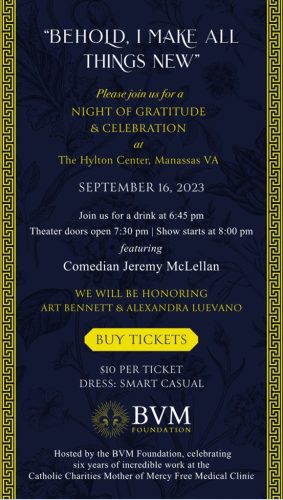 Let's celebrate a great story of redemption!   Click here or on the image above to purchase your tickets.
You have all heard the basic outline of the story:
After years of the local Catholic community praying on the street in front of the Amethyst Women's "Health" Center, the BVM Foundation (a group loaded with Seton families like you) finally purchased the assets and real estate of the clinic – on September 29, 2015, the Feast of the Archangels.
After a bit of time feeling like the "dog that caught the car", our Foundation found Art Bennett who was, at the time, the CEO of Catholic Charities.  Though Art's perseverance and leadership, Catholic Charities opened the Mother of Mercy Free Medical Clinic on December 6, 2017.   To lead the creation, openning and operation of the Clinic, Art quickly brought on Clinic Director Alexandra Luevano.
After only a bit under 6 years, the Clinic under Alexandra's leadership has growth from just 3 hours per week in one (1) location to two (2) locations that are open a total of 80 hours per week to serve 1,500 patients with more than 200 volunteers.
If that is not something to celebrate, I don't know what is!
On September 16th, we are all gathering at the Hylton Center in Manassas for a Night of Gratitude.  We'll start the night with pre-show drinks at 6:45. Then the night will feature a celebration of the story, a 2-part show with the hilarious Catholic Comedian Jeremy McLellan, and a time to honor the great work of Art Bennett and Alexandra Luevano.
It is shaping up to be the social event of the season – which means you absolutely have to be there!
Here is a link to get tickets.   If you are reading this post, we know you know a lot of people in the local community, so invite everyone you know to be passionate about Life.  That, of course, includes your adult kids.
I hope to see you on September 16th at the Hylton Center!  Let's celebrate the Culture of Life in Manassas!